Scandi Дабл 180, База L09 ліва+база L09 права, матрац L18, узголів'я 05 L18
Дабл 180, База L09 ліва+база L09 права, матрац L18, узголів'я 05 L18




Milton new (7 Cat.)
+₴8,002
Spenser (9 Cat.)
+₴11,771
Description
Characteristics
Modules
Payment and delivery
Warranty
Reviews
The Scandi double bed belongs to the new developments of furniture makers seeking to bring technological innovation to an ancient industry. The sleeping place was made of two parts. For the base, a special block of double-cone springs was used, thanks to which it acquired orthopedic properties, allowing not to resort to using the upper part - a soft mattress, the elasticity of which is provided by a block of independent springs.

In addition to bases and mattresses, the choice extends to the headboards, with which it is combined: a double bed 1800 mm or 1600 mm wide; single bed Scandi. But it is only available with headboard 01. The Scandi double bed (or its single version) is comfortable to use thanks to its robust metal frame and excellent shock absorption thanks to the beech side slats. The orthopedic value can be enhanced with a Scandi mattress.

Design preferences are realized when choosing: colors (presented in a wide range); upholstery. Natural leather looks more imposing, breathes with wealth and tranquility. Synthetic leather will be chosen by practical people, and textiles - fans of sophistication and style.
Description
Bed height with headboard (cm):
114
The presence of a niche for linen:
yes
Complete set with a mattress:
no
Upholstery options:
Textile
Include modules:
Дабл 180, База L09 ліва+база L09 права, матрац L18, узголів'я 05 L18
Characteristics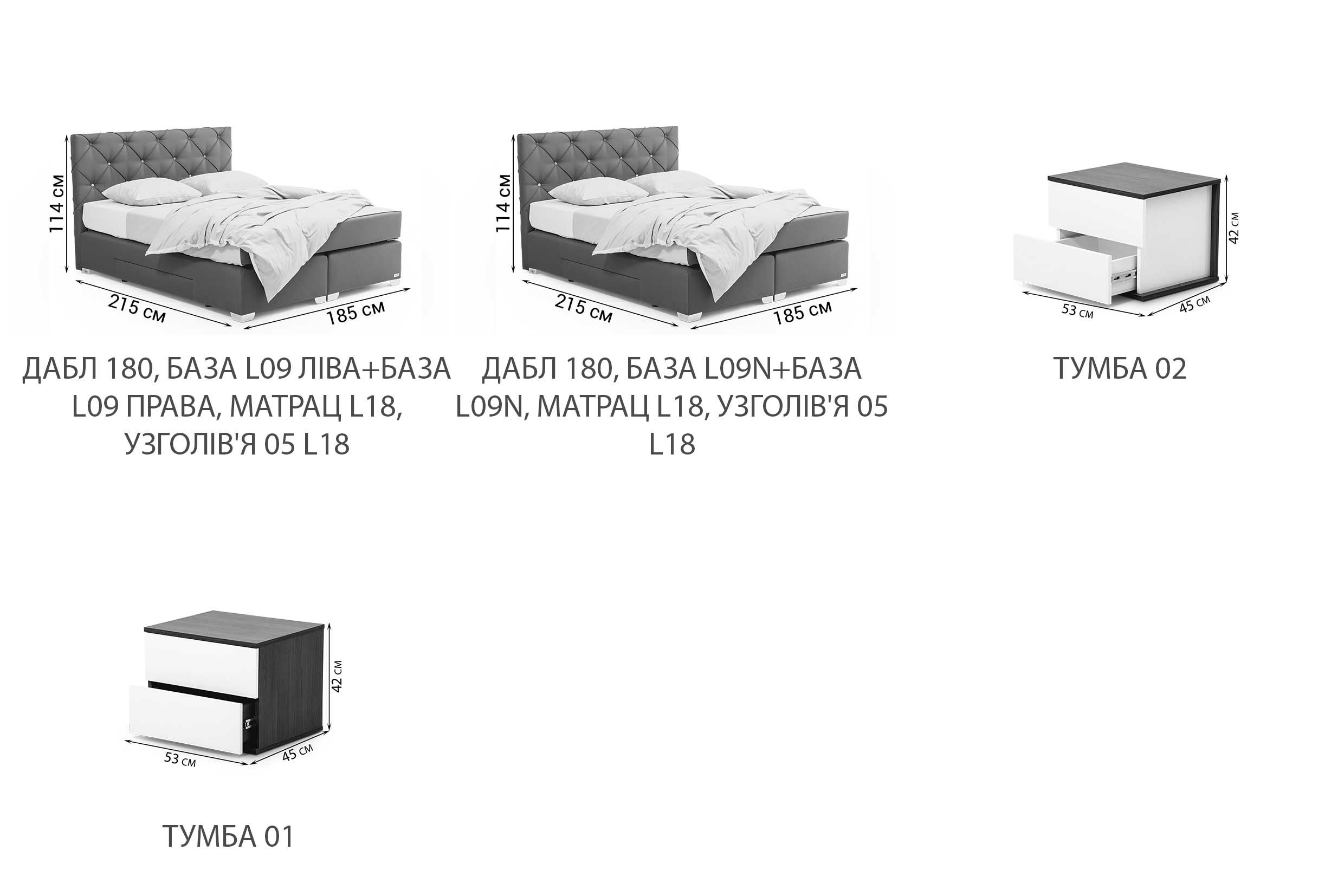 Modules
Warranty and replacement
The quality, completeness of the goods must correspond to the samples presented in the showroom or catalogs, according to which the order is made, and the norms of the current legislation.
Each finished product is accompanied by a product passport.
The manufacturer has determined the following warranty periods for upholstered furniture:
24 months for upholstered furniture used in residential premises;
12 months for upholstered furniture used in public premises.
The manufacturer guarantees the operation of its products during the entire warranty period. The terms of warranty service are detailed in the Product Passport that comes with the purchased product.
Only a new product that has not been used and has no traces of use is subject to replacement or return: scratches, chips, scuffs and other damage. The product has not been assembled.
The packaging of the goods and all of its equipment are not damaged.
Not damaged labels, instructions and production markings.
Replacement and return of goods to / from production is carried out by the Dealer / Buyer.
Warranty