Tenerife BMR(s)/1NR-1N-1NL/BML
BMR(s)/1NR-1N-1NL/BML



Milton new (7 Cat.)
+₴11,876
Spenser (9 Cat.)
+₴17,807
Description
Characteristics
Modules
Payment and delivery
Warranty
Reviews

The "Tenerife" model combines refined design and comfort.

The product is made in a modern style.

This is the perfect sofa for those who are looking for originality and elegance at the same time.

The peculiarity of the "Tenerife" model is that it does not have a transformation mechanism that forms an additional sleeping place. Due to this, the product looks incredibly light in space, is laconic and self-sufficient.

Additional comfort of the model is provided by the "step" mechanism in the back pillow, which turns the pillow into a headrest. This option (together with the electric recliner) allows you to set up the seat as comfortably and conveniently as possible for rest.

A feature of the "Tenerife" model is the presence of three sidewall options. You can choose two high narrow side panels, two wide low side panels or combine several types of side panels in one sofa.

The "Tenerife" model has high solid supports in black. They emphasize the elegance, lightness and individuality of the model.The high support makes it easy to clean the room with a robot vacuum cleaner. The height of the support is 17.8 cm.

Description
Sofa height with backrest (cm):
94
Transformation mechanism:
without transformation mechanism
The presence of a niche for linen:
no
Seat composition:
furniture pass, PPU
Include modules:
BMR(s)/1NR-1N-1NL/BML
Characteristics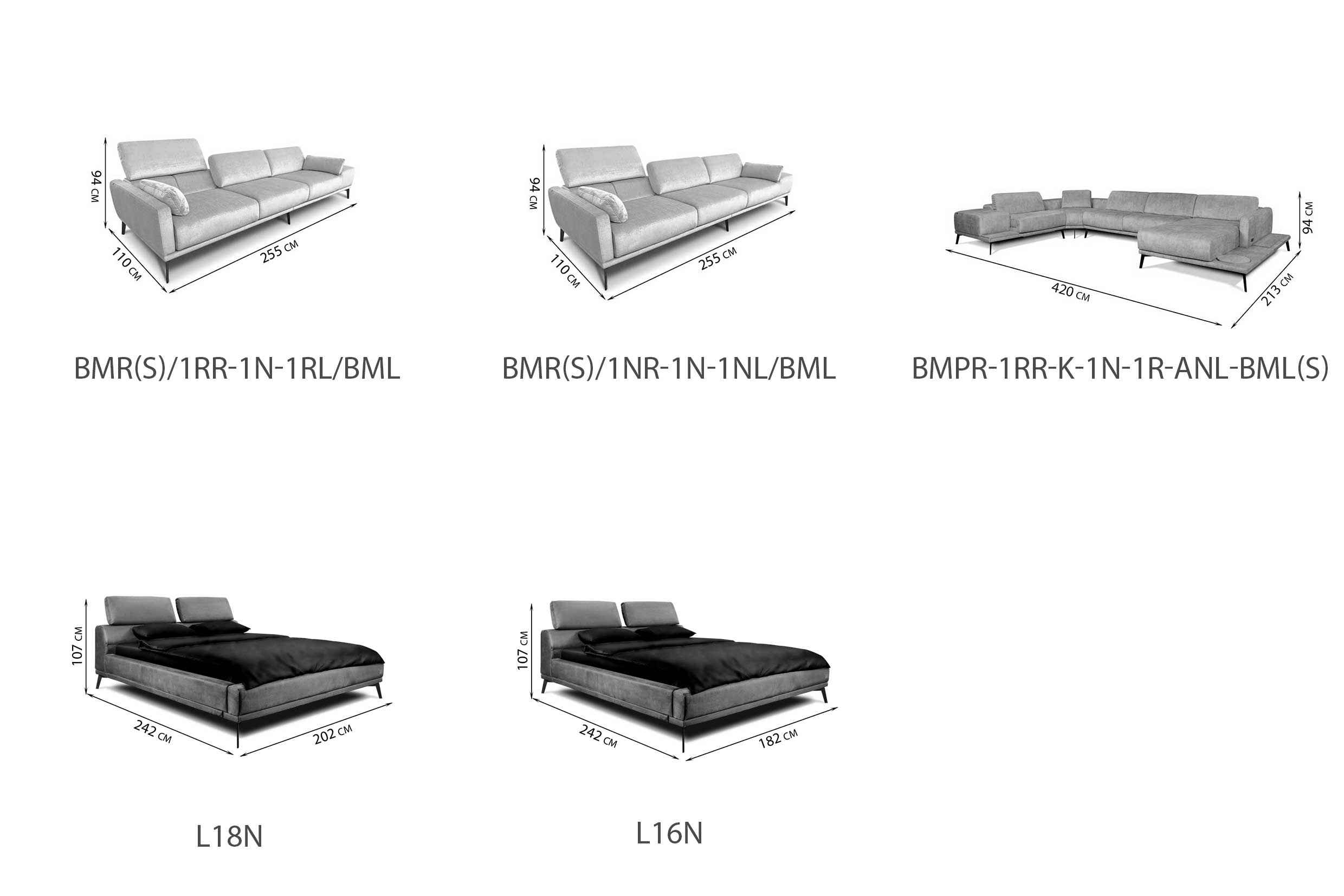 Modules
Warranty and replacement
The quality, completeness of the goods must correspond to the samples presented in the showroom or catalogs, according to which the order is made, and the norms of the current legislation.
Each finished product is accompanied by a product passport.
The manufacturer has determined the following warranty periods for upholstered furniture:
24 months for upholstered furniture used in residential premises;
12 months for upholstered furniture used in public premises.
The manufacturer guarantees the operation of its products during the entire warranty period. The terms of warranty service are detailed in the Product Passport that comes with the purchased product.
Only a new product that has not been used and has no traces of use is subject to replacement or return: scratches, chips, scuffs and other damage. The product has not been assembled.
The packaging of the goods and all of its equipment are not damaged.
Not damaged labels, instructions and production markings.
Replacement and return of goods to / from production is carried out by the Dealer / Buyer.
Warranty