Naron recliner BMR-1R-2T-BML
BMR-1R-2T-BML




Milton new (7 Cat.)
+₴15,092
Spenser (9 Cat.)
+₴22,648
Description
Characteristics
Modules
Payment and delivery
Warranty
Reviews
2-3 seaters sofa Naron
The Naron sofa is very beautiful on the outside and functional on the inside. Will not leave indifferent the most demanding connoisseurs of beauty and comfort. The model is decorated with edging on the seat, back and sides. This adds sophistication to the design and attractiveness.
This model is equipped with the "Recliner" mechanism - a mechanism that allows you to relax and unwind, keeping your head, torso and legs in a comfortable position ("relax"). This mechanism allows the sofa section to change the angle at your own discretion. This will make you feel most comfortable on the couch. Also in this way it is very convenient:
work with a laptop;
watch TV;
call relatives;
just close your eyes, dream, relax and take a nap
The recliner is operated by means of a touch button located on the side of section 1R, which is powered from the mains. Believe me, this thing will not leave anyone indifferent.
The sofa is equipped with high legs. They add lightness, elegance, attractive appearance to the sofa. Also, you can easily do wet cleaning under the sofa or "use an assistant" - a robot vacuum cleaner. The legs are made of natural hardwood.

The model is equipped with section 2T, which uses a new transformation mechanism of the Italian manufacturer "ComodoItalia". It turns the sofa into a wonderful double bed. This is an ideal guest option, in case friends or relatives stay overnight.

The Naron model will become a favorite in your home.




Description
Sofa height with backrest (cm):
101
Transformation mechanism:
The presence of a niche for linen:
no
Seat composition:
PPU, fibertech
Upholstery options:
Genuine leather, Leather substitute, Textile
Include modules:
BMR-1R-2T-BML
Characteristics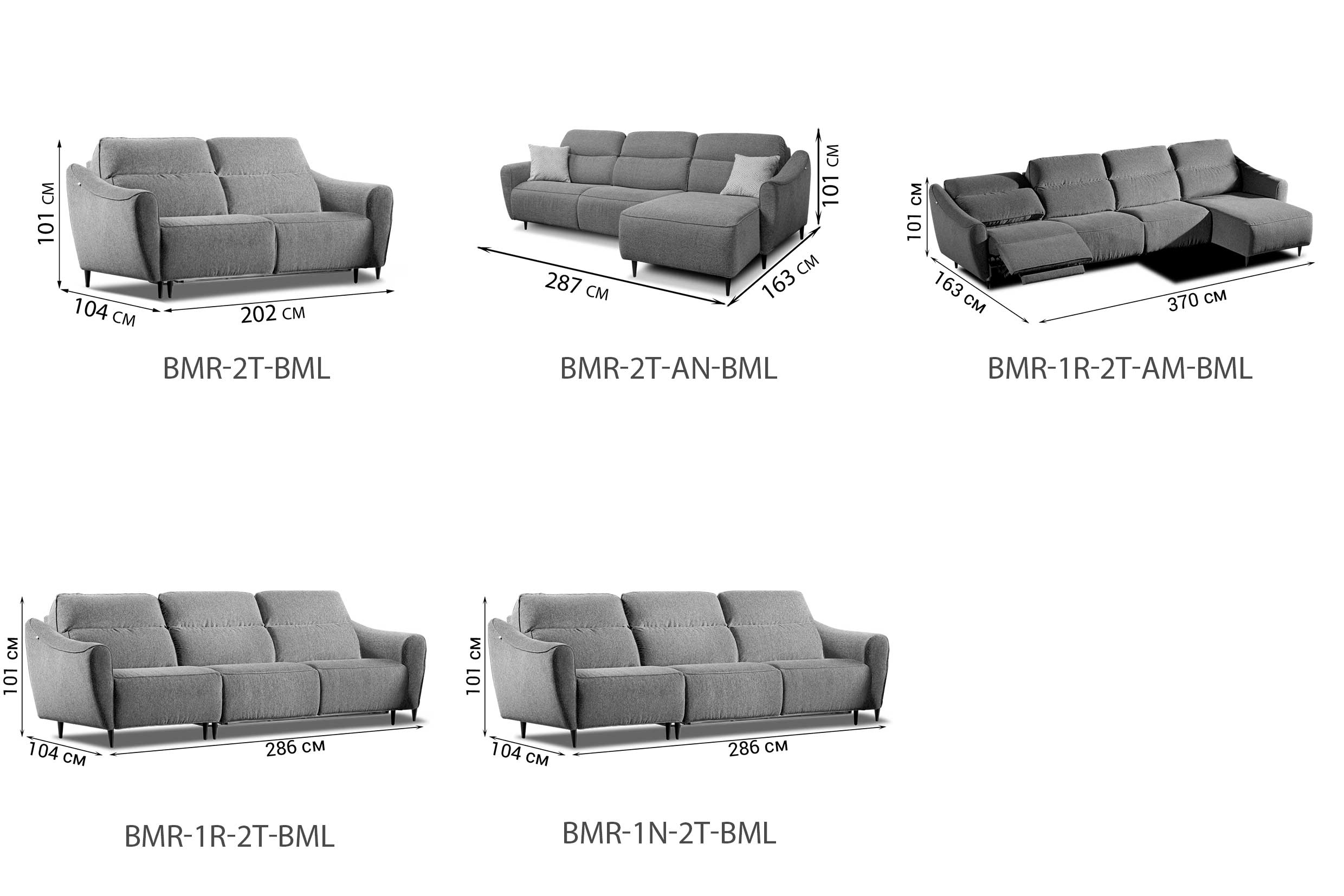 Modules
Warranty and replacement
The quality, completeness of the goods must correspond to the samples presented in the showroom or catalogs, according to which the order is made, and the norms of the current legislation.
Each finished product is accompanied by a product passport.
The manufacturer has determined the following warranty periods for upholstered furniture:
24 months for upholstered furniture used in residential premises;
12 months for upholstered furniture used in public premises.
The manufacturer guarantees the operation of its products during the entire warranty period. The terms of warranty service are detailed in the Product Passport that comes with the purchased product.
Only a new product that has not been used and has no traces of use is subject to replacement or return: scratches, chips, scuffs and other damage. The product has not been assembled.
The packaging of the goods and all of its equipment are not damaged.
Not damaged labels, instructions and production markings.
Replacement and return of goods to / from production is carried out by the Dealer / Buyer.
Warranty