Alicante New K-K-1N-1N-ANL
K-K-1N-1N-ANL
Milton new (7 Cat.)
+₴42,094
Spenser (9 Cat.)
+₴63,133
Description
Characteristics
Modules
Payment and delivery
Warranty
Reviews
Corner sofa Alicante New
Alicante New is one of the softest models in the Individual by Blest line!
Stylish, very soft, ultra-comfortable modular sofa. The concept of increased comfort is embodied not only in the design, but also in the ergonomic design of the model. The most important elements of which are the back cushions and seats, which are particularly soft.

In any configuration, the model retains an exquisite appearance, thanks to a unique design element - slanting geometry on the back of the back, sides and cushions of the sofa.
It is up to you to choose which configuration of the model best suits your needs and makes the perfect composition in your space:
- u-shaped
- alligator
- corner

Description
Sofa height with backrest (cm):
66
Transformation mechanism:
without transformation mechanism
The presence of a niche for linen:
no
Seat composition:
furniture pass, PPU
Upholstery options:
Genuine leather, Leather substitute, Textile
Include modules:
K-K-1N-1N-ANL
Characteristics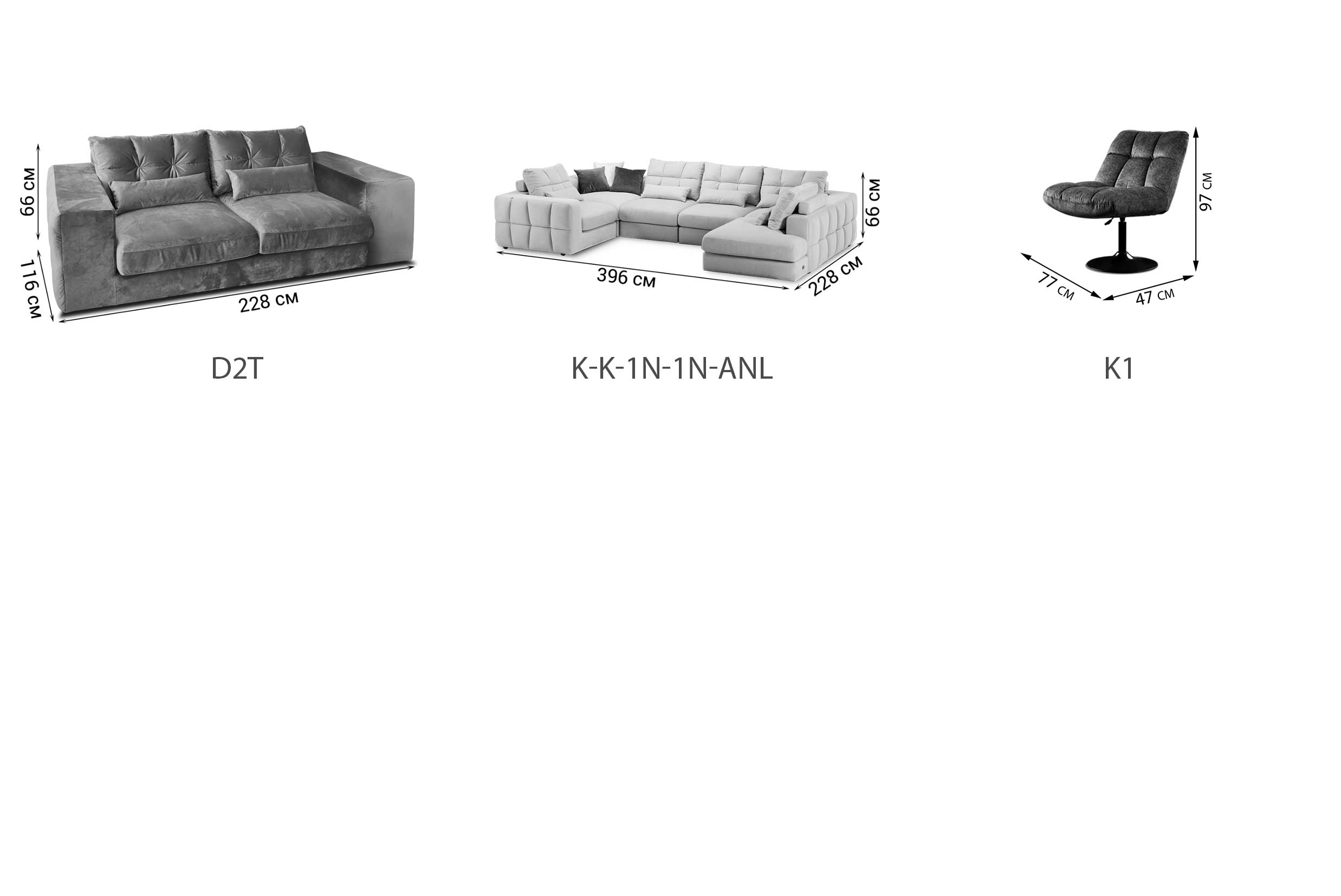 Modules
Warranty and replacement
The quality, completeness of the goods must correspond to the samples presented in the showroom or catalogs, according to which the order is made, and the norms of the current legislation.
Each finished product is accompanied by a product passport.
The manufacturer has determined the following warranty periods for upholstered furniture:
24 months for upholstered furniture used in residential premises;
12 months for upholstered furniture used in public premises.
The manufacturer guarantees the operation of its products during the entire warranty period. The terms of warranty service are detailed in the Product Passport that comes with the purchased product.
Only a new product that has not been used and has no traces of use is subject to replacement or return: scratches, chips, scuffs and other damage. The product has not been assembled.
The packaging of the goods and all of its equipment are not damaged.
Not damaged labels, instructions and production markings.
Replacement and return of goods to / from production is carried out by the Dealer / Buyer.
Warranty