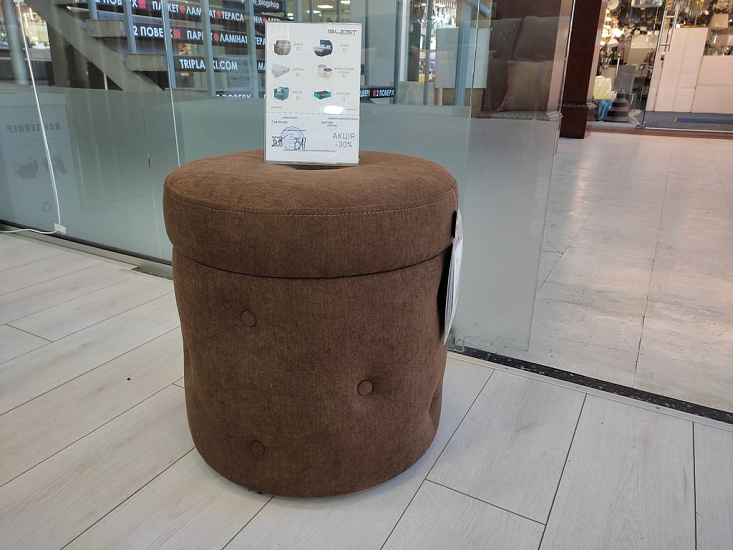 -40%
Discount items have a limited selection of fabrics and colors.
Description
Characteristics
Payment and delivery
Warranty
Reviews
The "Beatrice" pouf from the "Blest" company will become a real decoration and addition to the bedroom. It is a small and compact product that can be positioned where a sofa or couch cannot fit. This piece of furniture will serve as an excellent assistant to a fashionista; it is convenient to sit on it in front of a mirror and do makeup. He will help out in the event that there is a need for a place to sit for a suddenly arrived guest.

The pouf can be installed in the corridor, it will be more comfortable to put on your shoes. It will serve as a small coffee table in the living room, addition to a sofa or armchair.

It is an indispensable element in every home, it gives family peace and comfort. This piece of furniture can be installed in a study, library, in any other room. It will complement any interior, its bright highlight.



Description
Seat composition:
furniture pass, PPU
Characteristics
Warranty and replacement
The quality, completeness of the goods must correspond to the samples presented in the showroom or catalogs, according to which the order is made, and the norms of the current legislation.
Each finished product is accompanied by a product passport.
The manufacturer has determined the following warranty periods for upholstered furniture:
24 months for upholstered furniture used in residential premises;
12 months for upholstered furniture used in public premises.
The manufacturer guarantees the operation of its products during the entire warranty period. The terms of warranty service are detailed in the Product Passport that comes with the purchased product.
Only a new product that has not been used and has no traces of use is subject to replacement or return: scratches, chips, scuffs and other damage. The product has not been assembled.
The packaging of the goods and all of its equipment are not damaged.
Not damaged labels, instructions and production markings.
Replacement and return of goods to / from production is carried out by the Dealer / Buyer.
Warranty