Description
Characteristics
Modules
Payment and delivery
Warranty
Reviews
The double bed Angeli L18 in the Unison collection was made as particularly comfortable. The presence of a full-length side back allows you to use the Angeli 18 in any part of the bedroom, including in the corners. When buying, you should pay attention that the container for bed linen acts as an additional option, and is not included in the basic package.

The corner bed Angeli L18 is inherent, in addition to remarkable comfort, such valuable properties as: · high strength due to the metal frame; · Amortization created by beech lamellas; · Variability in the choice of upholstery material, made of synthetic leather or textiles, and the color range, represented by one and a half dozen shades.

Happy owners of a double corner corner Angeli will experience firsthand the importance of a good bed in order for sleep to provide a full recovery of the physical and mental strength spent during a busy day. By purchasing Angeli, you will be able to fully organize the interior space of the apartment, reaching the desired level of comfort.
Description
Bed height with headboard (cm):
82
The presence of a niche for linen:
yes
Complete set with a mattress:
no
Upholstery options:
Leather substitute, Textile
Characteristics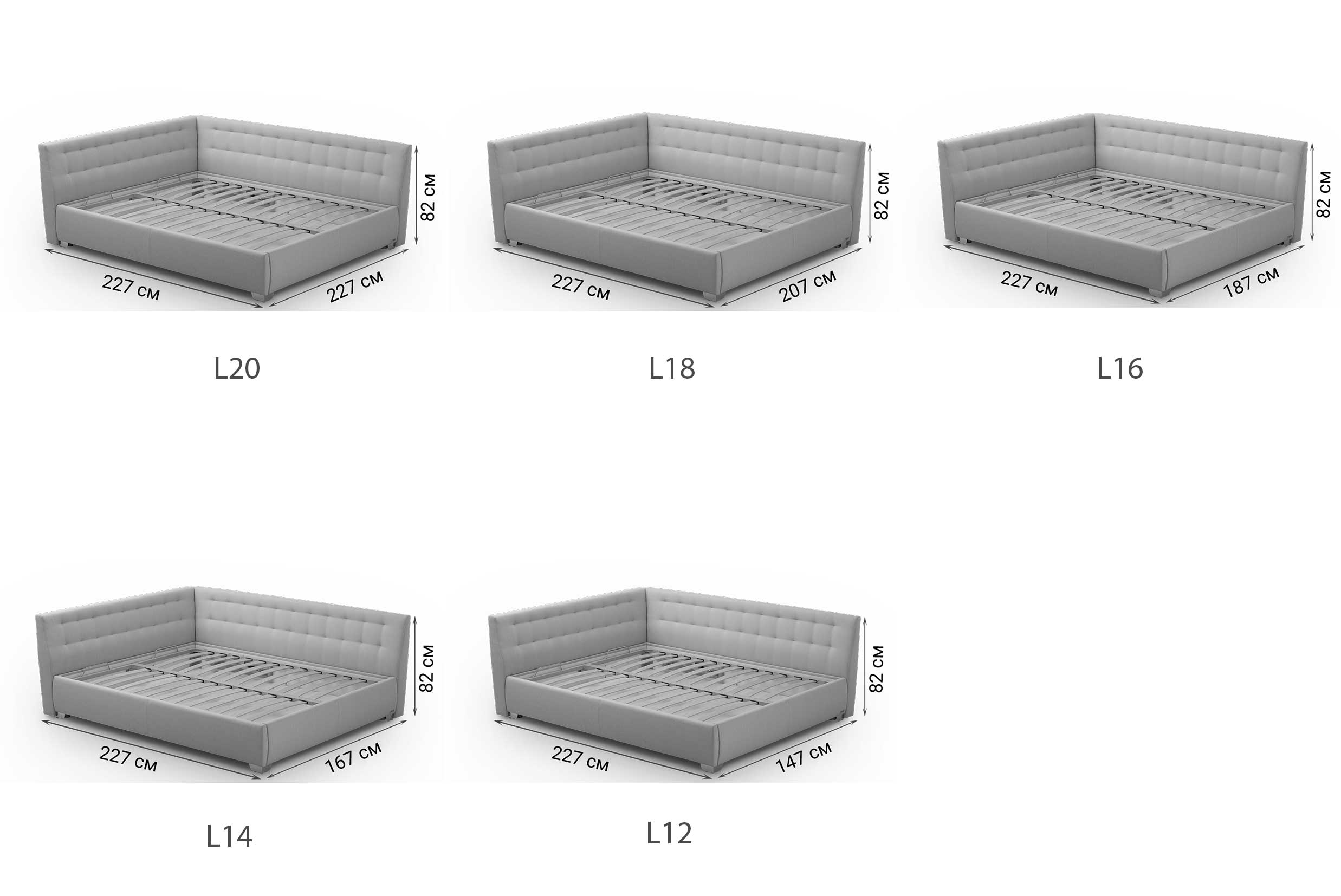 Modules
Warranty and replacement
The quality, completeness of the goods must correspond to the samples presented in the showroom or catalogs, according to which the order is made, and the norms of the current legislation.
Each finished product is accompanied by a product passport.
The manufacturer has determined the following warranty periods for upholstered furniture:
24 months for upholstered furniture used in residential premises;
12 months for upholstered furniture used in public premises.
The manufacturer guarantees the operation of its products during the entire warranty period. The terms of warranty service are detailed in the Product Passport that comes with the purchased product.
Only a new product that has not been used and has no traces of use is subject to replacement or return: scratches, chips, scuffs and other damage. The product has not been assembled.
The packaging of the goods and all of its equipment are not damaged.
Not damaged labels, instructions and production markings.
Replacement and return of goods to / from production is carried out by the Dealer / Buyer.
Warranty